a little bit about us & our philosophy

Our Story

Jo Meacham has been creating kitchens for distinctive residences throughout the Oklahoma City area for over 24 years. A graduate from the University of Oklahoma with a Master's in architecture, Jo spent over 20 years as a historic preservation consultant. In the late 1990's she was offered the opportunity to renovate a large home in Heritage Hills. This first project led to the creation of a kitchen remodeling company with expertise with historic homes. Since then, Urban Kitchens has expanded to design kitchens and baths in homes of all ages. Jo's philosophy in kitchen and bath design was influenced by her preservation background. Originally known as Vintage Kitchens, the company rebranded in 2010 as Urban Kitchens.

Over 4 years ago Neila Crank-Clements joined the firm as a partner. With over 10 years of experience remodeling historic homes and building and designing new homes for historic districts in Oklahoma City, Neila brings the expertise required for all sizes of projects. Over the past several years Urban Kitchens portfolio includes a number of kitchen + master bath projects, whole house remodels, and additions.

As Urban Kitchens continued to grow, the company was joined by Megan Crowe. Megan works with clients to design projects, select materials and serve as a project manager. She is also the design studio manager for the company.

Urban Kitchens has completed kitchens, bathrooms, and whole house renovations all over the Oklahoma City metropolitan area, including Edmond, Norman, Enid, Clinton and just recently a project in the Texas panhandle. Our design studio is in the heart of the city at 4205 North Western.

Our Philosophy

"Our kitchens are thoughtfully designed to embrace your home's unique architecture, express your personality and enhance your lifestyle." At Urban Kitchens we believe that context is the beginning of all design.

Each house, neighborhood and city are unique with distinctive architecture and culture. Our clients want kitchens to stand the test of time and we believe designing a kitchen that complements the existing architecture is the answer.

Urban Kitchens is a design + build kitchen and bath company founded in 1999. Our mission is simple – we provide our clients with personalized service and innovative design solutions using premiere products. We offer a one-stop experience to clients throughout the state of Oklahoma. Our team of talented and creative staff strive to create a custom look for your home that is sure to inspire. From the craftsmanship that goes into each of our products to our helpful and skilled staff, Urban Kitchens offers every kind of service you would expect from a modern kitchen specialist.
Jo Meacham

Owner + Designer

Jo Meacham, the principal of Urban Kitchens, holds a master's degree in architecture and historic preservation from the University of Oklahoma. She began her career in planning and preservation with the City of Oklahoma City. Since founding Urban Kitchens in 1999, Jo has designed and built hundreds of kitchens in the historic areas of Oklahoma City, including Heritage Hills, Mesta Park, Edgemere Park, and Crown Heights, as well as Edmond, Norman, and throughout the state. She currently serves on the OKC Historic Preservation Commission.

"I believe excellence in kitchen design begins with context."

Neila Crank-Clements

Partner + Project Lead

After a decade in non-profit community housing development, Neila is a whiz at sourcing affordable luxury, and staying within budget. Her creativity matched with a preservation mindset, ensures all Urban Kitchens' projects are comfortable and timeless. Neila spends her leisure time veggie gardening, cooking, and traveling with her hubby and three pit bulls.

Megan Crowe

Cabinet Designer

Megan is our in-house organization expert with a deep understanding of how spaces work. Her kitchen and bath designs enhance your environment by making the most of every inch of your space. Are you a budding chef or marathon baker? Megan will ensure your kitchen has all the right components! When not working with clients she can be found on her Norman farm caring for her donkey, goats, husband and four boys.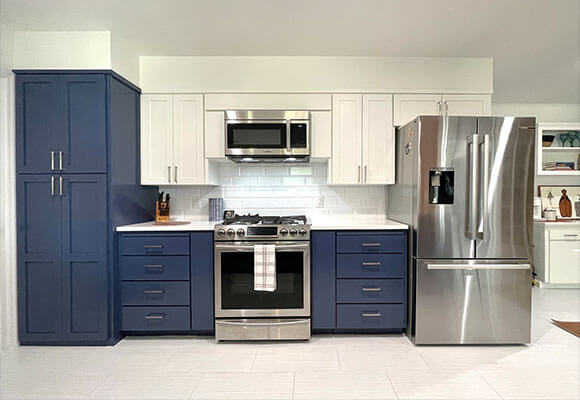 Kitchens
Each kitchen we create reflects you, your home and your lifestyle. Like when cooking, your vision and our designers are the recipe, our materials and kitchen components are the ingredients, and the finished kitchen is the result of the cooking process. What makes our kitchens so unique is the collaboration between the homeowner and the creative designers at Urban Kitchens.
At Urban Kitchens we understand everyone is different. Every kitchen is special. And our goal is to listen to our clients and design the perfect kitchen. Your dream kitchen.
Learn More About Kitchen Designs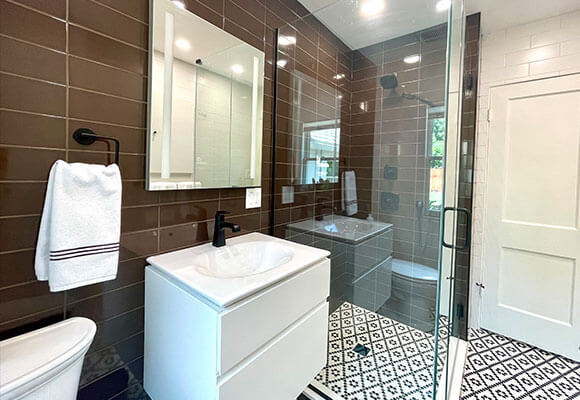 Bathrooms
Looking for bathroom design ideas? Of course you are, that's why you're here! Whether you're making small upgrades, going for a full overhaul, or just daydreaming from your desk, a bathroom renovation can make a big difference in the feel of your home (and your skin-care routine). So it's no wonder that along with the kitchen, this practical space often takes top priority when it comes time to remodel. But choosing a brand-new look isn't always easy. With over 23 years of experience, partner with the designers at Urban Kitchens to design and renovate your powder room, your Jack & Jill or your Primary Bathroom!
Learn More About Bathroom Designs
Whole House
Tackling a whole home renovation is not for the faint of heart. This is a project that for many people will be a once-in-a-lifetime experience. This typically means that most homeowners are in a position of "you don't know what you don't know." In other words, you will have a general idea that there are a lot of details involved but won't have any idea just how many until you start your project.
Fortunately, we've worked with many homeowners on their whole home renovation projects, and know just how many details go into getting a whole home renovation right. We love planning and designing and building out our clients' dream renovations, and over the years have developed a general whole home renovation checklist to help our clients understand the process better.
Certainly being a specialist for kitchens and bathroom renovations brings important experience for whole house renovations. We also partner with a local structural contractor for projects involving additions are new builds.
Learn More About Home Remodels
best of houzz & best of oklahoma

Urban Kitchens has been a part of HOUZZ, the leading platform for home remodeling and design, for over 10 years. We have received numerous awards for service, design, and recommendations and love how easy it is for our potential clients to see our projects and our past clients to give such great reviews!

We have been chosen by the more than 25 million monthly unique users that comprise the Houzz community from among more than 500,000 active home building, remodeling and design industry professionals.


See more of our work on Houzz.